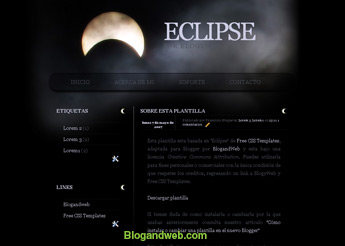 Esta plantilla esta basada en "Eclipse" de Free CSS Templates, adaptada para Blogger por Blog and Web y esta bajo una licencia Creative Commons Attribution. Puedes utilizarla para fines personales o comerciales con la única condición de que respetes los créditos, regresando un link a Blog and Web y Free CSS Templates.
Características
Definición de colores en el panel.
Dos columnas.
Menú personalizable.
Descarga